Just A Stone's Throw To Winter (冬の一歩手前で, Fuyu no Ippo Temae de?) is the thirteenth episode of the Sakurasou no Pet na Kanojo adaption. It aired on January 8, 2013.
Appearance
Plot
The episode starts with the last scene from Episode 12. However, after Mashiro asks Sorata what love is everything blew out of reality, with Nyaboron even becoming real. Sorata then wakes up.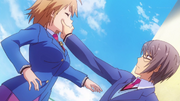 In school, Sorata was eating on the roof and re-thinking about his dream from last night. Suddenly
Jin
appears and shows Sorata the peoples' survey responses to Nyaboron. The responses were generally positive. Sorata then tells Jin that he submitted another design for the "Let's Make A Game" competition, with some help from
Ryuunosuke
this time. They also talked about
Rita
and Ryuunosuke's commotion at the airport. Not long after,
Nanami
comes with Mashiro, saying that Mashiro is looking for Sorata. Misaki also appears suddenly from the top of the building, which makes Jin suddenly pretend to be asleep.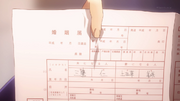 When Misaki tries to take advantage of the situation, Jin wakes up and stops her midway. Misaki then hands over a lunchbox she made for Jin that confesses her love. Later in class everyone is talking about what they plan to do for Christmas. At the end of the school day Nanami meets Jin in the locker room and finds out that Misaki sent him a love letter with a form for marriage in it. Jin also gave Nanami a pair of tickets for a performance on Christmas Eve, telling her to "use her props while she can".
Iida Ayano
to delay the deadline because of the cut she got. A few moments later, Ayano came and sees the cut.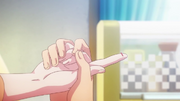 When she was about to leave, Sorata stops her and said that he needs to talk to her. Both of them head to a restaurant. Ayano then states that Mashiro is transitioning to a "normal" type of girl, as compared to when both of them saw Mashiro for the first time. Ayano asks Sorata whether he prefers the old or new Mashiro (Ayano also makes a point that no matter what he chooses, it's still Mashiro nonetheless), and Sorata said that he prefers the old Mashiro.
Videos